5 Must-Try Gympie Terrace Restaurants | Clearwater Noosa Golf Resort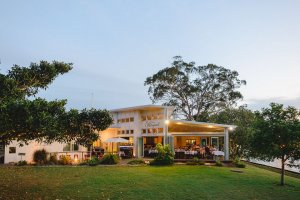 Our Noosaville holiday apartments offer a picturesque location next to Noosa River - just walking distance from an exciting choice of riverfront restaurants. On your Sunshine Coast holiday with Clearwater Noosa, snatch the chance to dine in style with these sought-after Noosaville restaurants on Gympie Terrace:
Little Humid
Fresh food prepared daily is the focus at Little Humid Restaurant and Bar, which offers contemporary Australian cuisine with an Italian twist. With seasonal oysters, eye-catching entrées and mains to enjoy alongside an exquisite wine and cocktail selection, Little Humid is a high-quality dining experience on Gympie Terrace that shouldn't be ignored.
Gusto Noosa
Gusto Riverfront Restaurant is a Noosaville bistro which serves up Modern European-style cuisine. Facing the Noosa River, Gusto is a must for al fresco enthusiasts, offering a full-flavoured lunch and dinner menu with available vegetarian and gluten-free options.
Flux Restaurant & Lounge
Enjoy a unique culinary experience at Flux - a contemporary lounge restaurant with Modern Australian share plates fit for social and family dining. Fresh seasonal produce makes Flux's menu stand out, along with a superior choice of craft beer and cider.
Noosa Waterfront Restaurant
Changing seasonally, Noosa Waterfront's Italian-inspired menu is exciting all year round, complete with an award-winning Australian wine selection and an atmosphere for both romantic and casual dining. A premier Noosaville restaurant, Noosa Waterfront sources its produce locally, providing a distinct taste of Noosa Sunshine Coast.
Thomas Corner Eatery
Thomas Corner Eatery delivers an innovative menu made from fresh regional produce. With award-winning head chef David Rayner at the helm, Thomas Corner Eatery is a fresh culinary experience utilising Sunshine Coast tropical fruits, nuts, vegetables and seafood, which won't disappoint casual foodies and gastronomes.

Enjoy Gympie Terrace in a short walk from our one, two and three-bedroom Noosaville accommodation - find more information now at Clearwater Noosa Golf Resort.