A wide array of fun activities at Noosa Long Weekend Festival
Posted in
Local Events
@
Apr 8th 2014 12:06pm
- By Administrator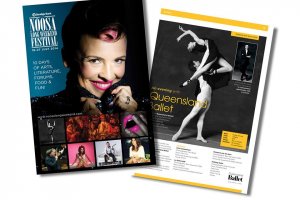 With more than 80 events throughout the 10-day festival, the Noosa Long Weekend Festival this year will be another much-awaited phenomenal spectacle to look forward to.

From a superb range of entertainment and musical performances to culinary delights, the Noosa Long Weekend Festival will again draw in thousands of guests from all over the Sunshine Coast and other parts of the country. Expect an impressive array of eclectic and diverse shows from burlesque and ballet to cabaret, and great performances including music, dance, theatre, comedy, literature, and visual arts, among others.

Delight in delectable offerings from an extensive selection of themed food such as "Puccini and Fettuccine" with Louise Kennedy, "Prawnisimo Promenade" at Sunshine Beach, Film with food screening of "Haute Cuisine", "Red, Hot and Saucy", by Rhonda Burchmore, and loads more.

Your favourite restaurants on Hastings Street will also be serving up special festival cocktails with lunch and dinner specials. For a sweet wrap up, the Festival Wrap Party will fearture four hours of non-stop entertainment and a five course lunch.

More attractions such as street musicians and performers, art exhibits and many others will also be features in the event.

There's so much more to experience on the Noosa Long Weekend Festival so make sure to plan your holiday in Noosa now and choose Clearwater Noosa for a great Noosa Holiday Accommodation.

To complete a sweet holiday escape, our Noosa Holiday Accommodation provides a good selection of fully self-contained one-, two- and three-bedroom apartments. Our apartment units are equipped with a full kitchen and laundry facilities, and also have private balconies or patios, air conditioning, complementary cable TV and wireless broadband access.

When you're not in the mood to go out and just want to enjoy some indoor fun and relaxation, Clearwater Noosa provides range of quality facilities that allow you to enjoy a holiday getaway. We have three outdoor swimming pools where you can just soak in after a long tiring day.

Families can also share delightful lunch, dinner or snacks in our barbecue area where you can have your own homemade meals.

Enjoy a great holiday in Sunshine Coast and make sure to plan your stay with us.
Book on our website: http://clearwaternoosa.etourism.net.au/
Image Source : Noosa Longweekend