Best Things to Do This Summer Near Our Noosa Holiday Accommodation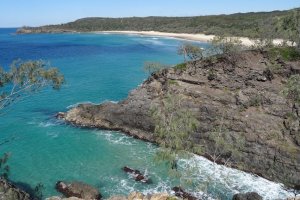 Make Noosa Heads your destination this summer for an exciting holiday surrounded in the Sunshine Coast's most picturesque scenery. Noosa Heads offers plenty to see and do for couples and families, and you can enjoy all of it by booking our affordable Noosa holiday accommodation.
Say Hello to Summer on Main Beach
Noosa Main Beach is a stunning north-facing beach with ideal surfing conditions and fantastic views of Noosa National Park. It's one of the Sunshine Coast's must-see beaches, and the perfect spot to welcome the summer season. The wide, curved beachfront offers plenty of space to picnic, sunbathe, and play sports, and the crystal-clear ocean is just as inviting for paddle boarders and surfers of all levels. You can be sure Noosa Main Beach will be the focal point of your Noosa holiday.
Explore Noosa National Park
Sitting next to Main Beach is Noosa National Park, and you won't want to miss exploring this beautiful patch of tropical rainforest. It's a dream for walkers with around 15 kilometres of picturesque trails to explore and lots of wildlife to see within the park. See if you can spot the small of population of koalas, then finish the day off with a picnic under the trees.
Take in the Scenery on Noosa River
Another must during your holiday in Noosa is Noosa River, where you can jump on a ferry or into a kayak to see some of the best scenery Noosa has to offer. Be immersed in tropical rainforest as you head down the river toward Tewantin, and see how much of the local birdlife you can spot along the way. It's a relaxing scenic tour that you won't forget.

For a comfortable stay in Noosa Heads this summer, book with Clearwater Noosa today! For more information on our resort for couples and families just visit https://clearwaternoosa.etourism.net.au