Browse through Noosa Marina Markets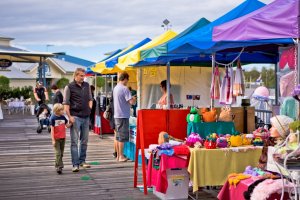 Enjoy a relaxing stroll through the famed Noosa Marina Markets. The idyllic setting on the deck and the beautiful views of the Noosa River provide a picturesque background. Browse through the many market stalls that feature art, craft and the freshest local market produce. Find unique and interesting items that you won't find anywhere else.
Music and entertainment from local and interstate musicians provide a lively laidback atmosphere.
After shopping, take the Noosa Ferry for a relaxing ride from the markets to one of the stops along the river.
The Noosa Marina markets operate every Sunday from 8am to 2pm all year round. Be sure to drop by Noosa Marina Markets located at Tewantin Queensland less than ten minutes from our Noosa Holiday Accommodation.
To find out more, go to www.noosamarina.com.au
To book your stay at Noosa Holiday Accommodation, visit www.clearwaternoosa.com.au
Image Source : Noosa Marina Markets