Celebrate the Arrival of Summer at the Beltane Fire Festival
Posted in
Local Events
@
Sep 12th 2018 9:57pm
- By iLaunch Support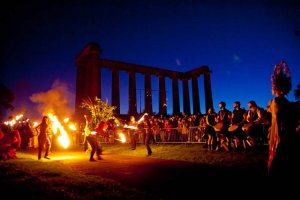 Celebrate the turn of the season and the arrival of summer at the Beltane Fire Festival this November! For an exciting day of entertainment, festivities, and good food, don't miss it at the Gympie Showgrounds near our Sunshine Coast holiday apartments.
Inspired by the Gaelic festival of Beltane, which is held around the start of May in Ireland and Scotland, Australia's own Beltane aims to bring people together and welcome a brand new season of summer, which starts on October 31 as part of the eight Sabbats of the Pagan Wheel of the Year. Deeply rooted in Irish mythology and sacred Pagan traditions, this annual celebration of fire, feasting, and dancing is a thrilling way to welcome the arrival of summer, which brings warmer weather and thriving pastures.
This November, the Beltane Fire Festival at the Gympie Showgrounds (near the Sunshine Coast) will be getting in the spirit of Beltane to mark the start of summer with a full day of nonstop celebration. At this year's festival you'll get to enjoy a Beltane Fire Ceremony, Burning Man, a Saturday Night Community Feast, fire twirling, Maypole dance, and lots more. There'll also be special guest speakers, fun workshops to take part in, a dedicated kids' zone, and an exciting program of live music that will have you dancing in celebration all day.
Book our accommodation Sunshine Coast apartments in Noosa Heads for this year's Beltane Fire Festival, which will be taking place just a short drive away at the Gympie Showgrounds on November 3! Our fantastic choice of accommodation offers the ideal stay for couples, families, and groups, where all the beauty of Noosa Heads on the Sunshine Coast is yours to discover.
Find more information on Clearwater Noosa now!