Clearwater Noosa: A Wheelchair Friendly Resort
Posted in
Accommodation
@
Aug 13th 2015 10:25pm
- By Administrator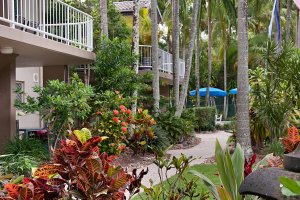 Holidays are for everyone. It doesn't matter if you're doing it as a break from a busy life or as part of your laidback one. But going on a holiday presents great opportunities to have fun and try new things. With that said, of course even the wheelchair using members of our family need it too.
Have you been searching for the most suitable Noosa holiday accommodation for your beloved with disability? Choosing an apartment is easy—it is everywhere—but that one which can make your companion comfortable is quite a tough one.
To help you with that, we are offering you Clearwater Noosa. Being nestled in the Balinese gardens off Noosa River, serenity, relaxation, and comfort are guaranteed to you by our Noosaville holiday apartments. You can choose from One Bedroom, Two Bedroom, Two Bedroom Two Bathroom, or Three Bedroom Two Bathroom apartments depending on your number as guests.
Those located on the first level are made to fit wheelchairs making it a perfect choice for you. Each unit is spacious, so your companion can move freely inside, has full kitchen and laundry facilities, private balcony, air conditioning unit, cable TV, and Wifi connection. Each room's master bedroom has a queen sized bed for a maximum pampering.
We also have three outdoor pools, with one that is gas heated so you can use it anytime of the year. With the views that can be seen here, your wheelchair using companion may also enjoy the place, along with our two barbecue areas and tropical gardens that are so ideal for your buddy's relaxation.
If you wish to travel around Sunshine Coast, we have a Tour Desk to assist you in with your bookings and transportation. With us, going to attractions such as Australia Zoo, Noosa National Park, and Underwater World isn't a hassle.
Nearby, we also have Gympie Terrace, and famous golf courses like Twin Waters, Pelican Waters, Noosa Spring Golf Course, Tewantin Noosa Golf Club, and Palmer Coolum Resort. You'll never run out of things to do on the Sunshine Coast.
And with Clearwater Noosa, you and your wheelchair using companion will both have a great time. Book to our resort now by visiting http://clearwaternoosa.etourism.net.au/.