Don't Miss These January 2020 Events at The J Near Clearwater Noosa
Posted in
Local Events
@
Nov 27th 2019 9:56am
- By Administrator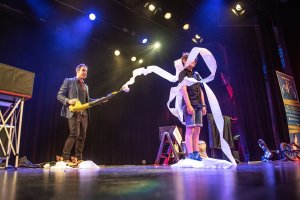 If you're planning a Noosa holiday this January, add a memorable night to your holiday with one of these upcoming shows at The J near our affordable Noosa Sunshine Coast holiday apartments.
Lennon Through a Glass Onion
The international hit Lennon tribute by John Waters, Lennon Through a Glass Onion is coming to Noosa Heads in January for two unmissable performances. For Beatles fans - and especially Lennon fans - this theatrical live tribute pays homage to John Lennon with over 30 hits from the pioneering songwriter, featuring John Waters himself with Stewart D'Arietta. See it with two performances at 3pm and 8pm at The J Noosa on January 11.
Comedy Circus Stunt Show
If you're a fan of circus, magic and comedy, don't miss one-man circus showman Joel Fenton, a Gold Coast-based entertainer who has dazzled audiences all over Australia. In Comedy Circus Stunt Show, watch Joel as he performs a variety of feats - both daring and mind-boggling - mixed in with hilarious stand-up comedy for good measure. Magic, juggling, unicycling and comedy - Joel brings it all to The J on January 15.
Jimeoin - Ramble On
Jimeoin is returning with a new tour! After leaving audiences gasping for air in his previous tour, Result!, the internationally renowned Irish comedian is back with all-new material in Ramble On!, featuring more of his laughter-inducing observations of everyday life delivered in trademark Jimeoin style. For fans and anyone looking to laugh this summer, make sure to catch his brand new tour when it stops at The Noosa J on January 17.
Sound Feast January
Ready to host its fourth year, The J's free indoor music concert, Sound Feast, is guaranteed to be bigger and better than ever. Featuring a full evening lineup of bands and performers with state-of-the-art lighting and sound, a huge stage, dance floor and bar, Sound Feast 2020 is not to be missed for music lovers seeking a full concert experience on the Sunshine Coast this summer. Best of all, Sound Feast is free to attend! Sound Feast January is set to take over The J in Noosa on January 24.

Book a cheap Noosa holiday with our 1, 2 and 3 bedroom Noosa accommodation at Clearwater Noosa - just a 5-minute drive from The J and Noosa Main Beach! Find more information now at Clearwater Noosaville Holiday Apartments.