Enjoy your Holiday in Noosa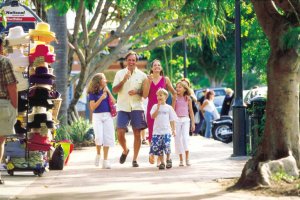 Noosa is fast becoming one of the top holiday destinations in Australia. Holidaymakers of all kind are now flocking to Noosa to experience a relaxing and exciting holiday adventure. One of the top attractions in Noosa is Noosa's Main Beach. The picturesque white sandy shores are perfect for romantic strolls with your loved one. Dig your toes into the sand and listen to the waves lapping against the shoreline. The crustal clear blue waters are also a safe and relaxing place to swim and surf in. Nature lovers can also head to the beautiful Noosa National Park, which can be accessed by a boardwalk from Hastings Street. Escape into this stunning area of protected headland and lush rainforest for a peaceful picnic. Expect a visit for some cure koalas, possums, and wallum froglets while enjoying your picnic.
Noosa is also fast gaining recognition as one of the best culinary destinations on the country. Hastings Street is full of award-winning international restaurants that serve exquisite delicacies from around the world. Waterfront cafes serve delicious and expertly prepared food that take advantage of the fresh local produce. Expect sumptuous meals like crabs freshly pulled from the nearby river.
The region is also famous for its great shopping experiences. Hastings Street is full of different boutiques where you can shop your heart out. You can also choose to drive to the nearby hinterland township of Eumundi to discover the world famous street markets.
Our Noosa Holiday Accommodation offers 1 bedroom and 2 bedroom apartments that are all equipped with modern furnishings. The apartments feature a private balcony and full kitchen and laundry facilities. The apartments also have complementary cable TV, air-conditioning and wireless broadband access so you'll feel right at home.
Spend your holiday with us!
Book now at http://clearwaternoosa.etourism.net.au