Get Ready for Noosa Summer Swim 2020 | Clearwater Noosa
Posted in
Local Events
@
Dec 9th 2019 11:17am
- By Administrator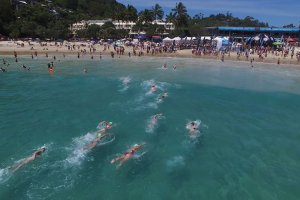 Noosa Summer Swim is back for 2020, set to be bigger and more exciting than ever before with a wide variety of distances for all abilities near our prime location at Clearwater Noosa.

Our Noosaville holiday apartments are ideal if you're looking for an affordable stay near all the action, which will take over Noosa Main Beach with a fantastic festival atmosphere for both participants and spectators.

The annual Noosa Summer Swim is one of the biggest events on the Sunshine Coast calendar - make sure not to miss it this 2020!
Noosa Summer Swim 2020 - What to Expect
For passionate swimmers, Noosa Summer Swim is an incredible opportunity to take part in a thrilling ocean swim just off the coast of Noosa Main Beach on the Sunshine Coast, spread across two days with multiple distances for all ages and all capabilities.

The 5-kilometre Noosa Grand Prix is the iconic main event, pooling 200 of Australia's most confident swimmers together for a marathon course that will push each participant to the limit. For budding ocean swimmers, casual swimmers and kids, other exciting events during Noosa Summer Swim include the Noosa 3km, Noosa 2km, Noosa 1km, Junior Giants and the 1.5km Social Swim.

This year, Noosa Summer Swim 2020 - organised by World Series Swims - will host Noosa 3km, Noosa 2km, Noosa 1km and Junior Giants (300m and 1km) on the first day, followed by the 1.5km Social Swim and the big Noosa Grand Prix on the second and final day.

Whether you want to take part or spectate, Noosa Summer Swim is a festival-style weekend event with something for all, complete with surfing, entertainment and special guests. Don't miss it this year on February 1 and February 2.
Noosa Accommodation Sunshine Coast Apartments
If you're looking to soak up the full 2020 Noosa Summer Swim weekend, book cheap accommodation near Noosa Main Beach with Clearwater Noosa. Situated on Weyba Road - a 5-minute drive from Noosa Main Beach and Hastings Street - our Noosa accommodation Sunshine Coast apartments offer an ideal location, comprising of fully self-contained one, two and three-bedroom options.

For travellers, couples, families and groups, our range of apartments offers both comfort and convenience, each featuring a spacious open-plan lounge and dining area, fully equipped kitchen with laundry facilities, cable TV, WiFi, large bedrooms and the choice of either a private balcony or garden. These also come with access to our guest facilities, which include three outdoor swimming pools, two barbecue areas and free undercover car parking onsite.
Save - Book Directly Today
Get ready for Noosa Summer Swim 2020 by booking directly with us today, guaranteeing you our best available rates this February, along with a location just 5 minutes from all the upcoming action on Noosa Main Beach.

You can view our fully self-contained one, two and three-bedroom apartments, as well as our affordable prices, by just visiting Clearwater Noosa.