Gondolas of Noosa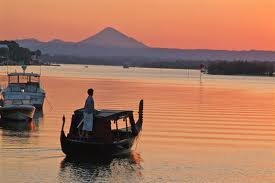 Enjoy a romantic cruise that takes you through the glorious sights of Noosa River. Climb aboard a Venetian-inspired gondola and get whisked away on a romantic adventure.
Perfect for couples, families and friends, the gondolas can comfortably accommodate up to six people. Bring a bottle of vino and be mesmerized by the breathtaking scenery.
The cruises can last for an hour to an hour and a half. Gondolas of Noosa also offer catered cruises. The food is freshly prepared by the finest restaurants in the area. Take a gondola cruise any time of the day. Choose from Breakfast Cruise, Lunch or Dinner Cruises, and Moonlight Dessert Cruise. Celebrate your special moments through a romantic river cruise. Book the Ultimate Romance package or the Wedding package for your special day.
Pick up points are at the wharf outside the Sheraton Hotel and the one outside Ricky's Bar and Restaurant all within minutes from our Noosa Holiday Accommodation. Book a romantic gondola cruise and glide through the tranquil waters of Noosa River.
For more information, go to www.gondolasofnoosa.com
Image Source: Gondolas of Noosa