Grilling Tips for A Fun Barbecue Party at Clearwater Noosa!
Posted in
Accommodation
@
Nov 25th 2015 2:41pm
- By Administrator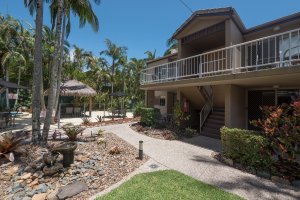 We all have our favourite people in the world - our best friends. They can be the rowdiest people whenever you get together and the most reliable when you're in trouble although you might probably remember those days where they sometimes they can also be the reason you're in trouble. At the end of the day, you have solid friendship you have built with them over the years. They stick out for you no matter what.

That's why the planner in the group always is the first to panick the moment you all realise everyone's available to get together for a long weekend. If you and your bestest of buddies are heading over to Noosa anytime soon, a perfect surfing experience might be your thing.

At Noosa, you can enjoy limitless possibilities with your friends. The list of local attractions you can visit are endless. But before you head out on your crazy adventures, how about starting your adventure with some good ol' BBQ goodness with your buddies?

Nothing beats a sumptuous grilled meal with your favourite people in the world. Here are some helpful reminders to get you and your friends grilling like a bunch of BBQ pros:

1. Choosing your Meat. Tonnes of meats are available in the market, so be a smart customer and always be on the lookout for fresh, premium meats. Also consider tossing some fish like salmon and trout some into your basket. Two more things, add some potatoes and corn, too. These carbs taste surprisingly divine when grilled! Plus, they pair great with your grilled meat.

2. Marinate overnight. Marinating is the secret to best-tasting barbecue, so be sure to marinate your meats overnight and keep some extras so you can brush it onto the meat while cooking.

3. Charcoal burners are proven to bring out the smoky flavour to your meat. If you can, have a lid too for keeping the temperature constant. Doing so cooks the meat evenly while locking the flavour in.

4. Own a good pair of tongs. Buy one that gives you the most control or grip, otherwise, you'd be accidentally dropping your barbecued meat between the grills. What a waste, so invest in a good pair.

5. Timing is everything, of course. From marinating the meats to setting the coals on fire require timing. Before you start cooking, wait for the coals to glow and turn gray. Once it reaches its maximum temperature, your meats are ready to grill.

So that's about it. Speaking of timing, avoid stressing over the planning. If you are looking for Noosaville Holiday Apartments, you can count on Clearwater Noosa for spacious rooms that can comfortably accommodate a big group like yours.

Clearwater Noosa is complimented with amenities perfect for your summer getaway. Recharge with a dip in one of our three sparkling swimming pools. Also stay connected with your friends online with our free WiFi access, plus we have a secure onsite undercover parking.

If you have yet to plan your week-long itinerary, no worries because our friendly tour desk staff members will readily be available to assist you with your bookings.

What are you waiting for? Book via http://clearwaternoosa.etourism.net.au today!