Have a Fun-Filled Run with The Color Run
Posted in
Local Events
@
Jul 29th 2015 10:19pm
- By Administrator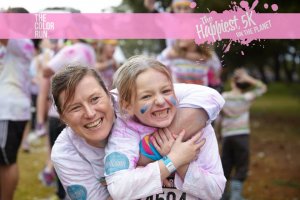 Sometimes, life is reduced to being monochromatic. And when you come to that point, you know you need to pick your life's crayons up and start colouring and putting life to yourself.
Start off by taking part in what is dubbed as the happiest 5k in the planet. On October 11, 2015, The Color Run will splash vibrant hues all over Sunshine Coast Stadium as thousands of happy people gather there for the worldwide fun run.
With its opening at 9am, excited participants are to run, jog, dance, and wiggle, as they dash through four colour zones to get to the finish line. Once there, they will be greeted by the Finish Festival where there will be DJs, music, and a lively party. A colour packet will be handed to each runner which will then be the passes for the Color Throw on the stage.
Colours to be used in this event are guaranteed safe as all 100% natural, food dyed, and food grade cornstarch. But as a precaution, participants are advised to wear bandanas of even just goggles.
If you think you're not fit for running, worry not. Although its event name suggests it, The Color Run doesn't require people to run, after all, it's all about the fun and excitement with your loved ones and buddies. So you may reach the finish line however you want: running, rolling, crawling, dancing, jumping, and tumbling, among others. The event isn't timed, but if you're into measuring your speed, you're free to time yourself throughout the five kilometre marathon.
Tickets can be bought from the event's website for $66.00 for individuals ages 16 and up, $56.00 per person in a group of four and above, $185.00 for families with two adults and two children, and are free for kids five and below. Visit its website now because registration is only up to October 10, 6pm, or until tickets last.
For a place to stay the night, you can choose Clearwater Noosa. Situated just 100 metres from Noosa River, our Noosa holiday accommodation is near Gympie Terrace and most of Sunshine Coast's golf courses and attractions.
To book to our Sunshine Coast holiday apartments, please go to http://clearwaternoosa.etourism.net.au/. 
Image Source : The Color Run