Have a Healthy Body Fit for the Hot Season Ahead
Posted in
Accommodation
@
Dec 25th 2015 5:50am
- By Administrator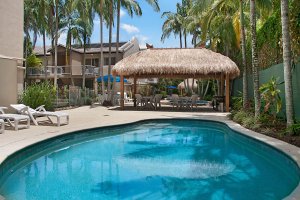 Say hello to an amazing weekend vacay with a healthy body. Before you say yes to the scenic wonders offered by the Gold Coast, here are some health care tips to get you all ready to enjoy a sizzling hot season outdoors:

Always Hydrate. Water is proven to work miracles for your body. Stay healthy all year round by getting into the 8-10 glasses of water habit. Avoid running the risk of dehydration or heat stroke by drinking more than enough to keep you revitalised.

First Aid to the Rescue. Allergies, rashes and sunburns are common during the hot season, so always be ready with your first aid kit. Pack it with anti-histamines, aspirin, cold compress, and anti-inflammatory creams.

Do Not Scrimp on Sunscreen. Don't forget to pack your favourite SPF-formulated creams, lotions, and hair conditioners. Apply these products onto your skin and hair before you go out so you can avoid getting prickly sun burns, rashes, and dry, damaged hair.

Shield Yourself. Too much of anything is bad for you. Even sun exposure. Do yourself a favour and avoid exposing yourself to the bright sun beyond 10AM. If you can, schedule your outdoor time wisely. Also have your umbrella, coverups and hats, or sunglasses ready.

There you have it, a few great reminders for you, your family, and friends. Drive to Noosa and look forward to an eventful weekend ahead. With Clearwater Noosa, you can feel right at home with our Noosaville Holiday Accommodations. Our sprawling establishment is complimented with amenities perfect for your summer getaway.

Whether you're on outdoor or staycation mode, you can count on Clearwater Noosa for the best of both worlds. You can start your mornings with a dip in one of our three sparkling swimming pools and even host a barbecue party with friends and family. You can find your car a home, too, within our secure onsite undercover parking.

If you can't wait to bask in the holiday air, you may consult our amiable tour desk staff to give you expert travel advice on Gold Coast's best attractions. Book now by visiting http://clearwaternoosa.etourism.net.au/. It's fast and easy!