Head to Noosa for Summer | Noosa Accommodation Sunshine Coast Apartments
Posted in
Accommodation
@
Sep 10th 2019 12:22pm
- By Administrator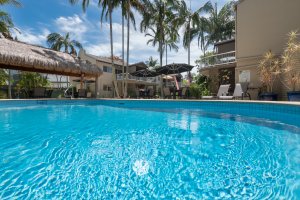 Head to tropical Noosa Heads for your next escape. Summer is the best time of the year to visit Noosa on the Sunshine Coast - a picturesque holiday destination that doesn't disappoint with its world-famous surf beach, abundant shops and restaurants, and rich tropical surroundings.

Our cheap Noosaville holiday apartments on Noosa River will put Noosa in the palm of your hand! With us at Clearwater Noosa, soak up the beauty of Noosa Sunshine Coast in one of our affordable one, two and three bedroom apartments that are spacious, modern and fully self-contained with a location near the best things to do in Noosa:

Noosa Main Beach is a 5-minute drive away from our Noosa resort and there isn't a better place to be this summer. Surf, swim and sunbathe on the Sunshine Coast's most sought-after beach and enjoy more sand, sea and surf at its neighbour, Little Cove Beach.

Noosa National Park is located next to Noosa Main Beach - not to be ignored if you're looking for a summer adventure! This huge rainforest park boasts scenic walking tracks, colourful flora and lots of wildlife, including a thriving koala population to see.

You can also find Lake Weyba Queensland just south of our location, which won't disappoint if you find yourself craving a change of pace and scenery on your Noosa holiday. This large lake sets the scene for lakeside picnics, strolls and kayaking.

For more natural exploration, visit Tewantin National Park, reachable within a 20-minute drive. If you're a nature lover, you'll be in awe at this park's lush tropical beauty, which has plenty to explore over one whole day out.

Additionally, make sure to visit Hastings Street Noosa Heads - one of the leading shopping destinations on the Sunshine Coast. Just a stone's throw away from our Noosa holiday accommodation, find your favourite fashion and surfing brands with souvenir stores, market stalls and more to browse on a summer afternoon.

All this and more is yours to enjoy with Clearwater Noosa, where we offer cheap Noosa accommodation next to picturesque Noosa River! We also have a wide range of onsite facilities to enjoy during your holiday, including three inviting outdoor swimming pools, two barbecue areas, guest WiFi access and more.

Find more information then start planning your summer escape - just visit Clearwater Noosa Resort.