Noosa Festival of Surfing
Posted in
Local Events
@
Jan 24th 2013 1:15pm
- By administrator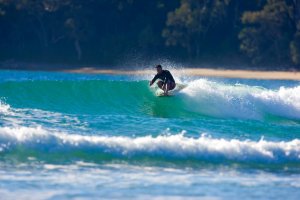 Watch one of the biggest surfboard riding events in the world. The Noosa Festival of Surfing will celebrate its 22nd anniversary from March 10-16, 2013. The week-long festival celebrates the spirit of surfing in famed First Point at Noosa Heads. This year, the festival will be bigger and better than ever.
The 2013 event will have new features on top of more than 20 pro, amateur, specialty and team surfing events. Enjoy free entertainment on a beach stage as well as the surf expo on the sand.
Some of the fun activities you can look forward to include Like a Cup of Tea with God, the rich history of Noosa and the Sunshine Coast presented in words, music, photographs and art; Stand-alone Stand Up Paddle Mini Festival, a 2-day SUP extravaganza; North Shore Jeep Surfari which gives disabled kids the chance to join world champions for a surfing adventure; and Dog Surfing gets serious which is an actual competition.
The festival will donate bar profits to charity and community benefit organizations.
Have a blast and watch all the surfing action at First Point, Noosa Heads within minutes from our Sunshine Coast Holiday Apartments.
To find out more, visit http://noosafestivalofsurfing.com/
Image Source: Noosa Festival of Surfing