Savour the School Holiday with These 5 Things to Do in Noosa Heads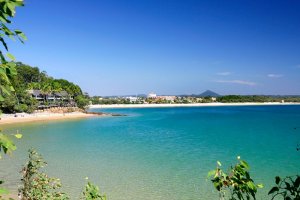 For the best destination to take the kids this summer, head to Noosa on the Sunshine Coast. Rolling in tropical beauty and bursting with things to do, Noosa Heads offers a family holiday to look back on for years to come, with the nearing school holiday being the perfect excuse to escape!

By booking our cheap Noosa holiday accommodation for families, here are just five of the many things you can do near our location at Clearwater Noosa:
Surf on Noosa Main Beach
The Sunshine Coast's most sought-after beach, Noosa Main Beach is widely loved for its prime surfing conditions and tropical surrounds, located next to both Noosa Botanic Gardens and Noosa Head National Park. A 5-minute drive from our Noosa accommodation, Noosa Main Beach is a sandy paradise that's going to be your family's favourite place to both relax and enjoy the sun!
Discover Noosa National Park
After Noosa Beach, visit Noosa National Park for a casual bushwalking adventure in the Sunshine Coast's most popular coastal rainforest. Home to scenic tracks with rich tropical flora and wildlife, there are lots to explore and find, including the park's friendly koala population, Hell's Gate lookout and Fairy Pools for rock pool swimming next to the ocean.
See Laguna Lookout
For either sunrise or sunset, Laguna Lookout is a must-visit Noosa location this summer, which offers the best view over Noosa Heads Sunshine Coast. Reachable via a short uphill walk, Laguna Lookout Noosa displays Noosa's tropical scenery in all its glory, including a sweeping view of Noosa River.
Explore Noosa River
Take a tour of Noosa River with the kids! Noosa's beautiful river is ideal for swimming, paddling and boating, with boat tours available for groups and families looking to see Noosa Heads from a whole new angle. Via boat or kayak, exploring Noosa River is an experience the kids won't forget, with both available for hire for affordable prices.
Experience Alfresco Dining in Noosa
Noosa Sunshine Coast has a host of restaurants to experience, with being the best time to dine alfresco. Just a short walk from our Noosa accommodation Sunshine Coast apartments, find a wide choice on Gympie Terrace, many of which offer outdoor dining with a sparkling view of Noosa River and Noosa North Shore.

At Clearwater Noosa, we offer affordable one, two and three bedroom apartments surrounded by the best of Noosa Heads. Find more information on view our direct rates and offers at Clearwater Noosa.