Stand-Up Paddle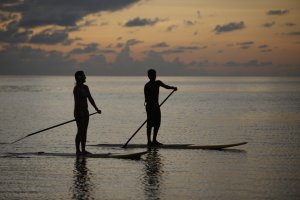 Increase your core strength by doing a full-body relaxing workout. Yes, you can relax while working out via Stand-Up Paddle.

Considered as a complete health and fitness package, Stand-Up Paddle is a holistic approach to fitness. SUP-ing is recommended for surfers and non-surfers, male and female, young and old.

The aim of Stand-Up Paddle is to help you paddle in a comfortable environment with precision and ease using the latest SUP boards.

When you enroll for your first lesson, you will be taken to Noosa Sound's calm waters so you can learn in a soothing environment. You can also learn in mixed groups, as a private individual, participate in ladies lessons / corporate groups, birthday parties, ocean paddles, sunset paddles and advanced technique clinics.

Stand-Up Paddle lessons include paddle stroke and turns, hiring of board and paddle, control board direction, instructions and safety advice, control board direction and more.

Lessons can be had to suit your schedule while regular classes are available everyday.

Stand-up Paddle combines a full body workout and the great outdoors while producing great results. SUP-ing is an effective way to be fit and tone up. Enjoy a fun workout while enjoying Noosa's sunshine and fresh air.

Trip Advisor Reviewer "Gay H" booked a SUP lesson and found Noosa as an awesome area to paddle in.

"I booked a lesson with owner Rick. It was a small group lesson, we were given excellent instructions how to use the paddle boards & off we went. He is very patient, helpful, & gives great tips as you glide along the beautiful canals around Noosa. Rick carries a water bottle on his board to give you a small refreshment halfway thru the lesson. Highly recommend trying stand up paddling with Rick or his lovely wife Donna lee. The following days after I went back and hired a SUP board 3 more times. Very generous with their time, & equipment."

Trip Advisor Contributor "Obwahn" had a "great afternoon" learning SUP.

"Had a solo lesson with Donalee -- very pleasant afternoon, friendly person, great attitude, eager to teach. Can't wait to do more."

Trip Advisor Senior Reviewer "Barramax" describes SUP-ing as a "great experience."

"…would recommend to anyone who has thought of giving SUP a go. Awesome experience gliding along Noosa River, calming experience. Staff friendly and helpful. Clear instructions given. Highly Recommended."

Stand-up paddling is a cool way to explore the beautiful waterways of Noosa while also enjoying a full-body workout.

Stand-up Paddle is located at Noosa Heads, Queensland. It is a quick drive from our Noosa Holiday Accommodation.

If you want to have a Stand-Up Paddle experience, call 
0423 869 962, email 
[email protected] or go to http://www.noosastanduppaddle.com.au.

Book your stay now at our Noosa Holiday Accommodation by visiting http://clearwaternoosa.etourism.net.au so you can be near Stand-Up Paddle.
Image Source : Stand-Up Paddle