Surprise her with those Beautiful Jewelleries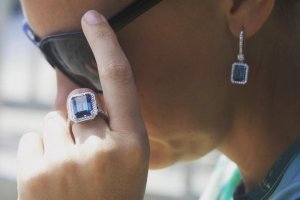 Business trips give us less time with our families. So those times that could've been spent bonding together are often reduced to mere phone calls or chat over the Internet. It is true that absence makes the heart go fonder, but still, nothing can compare to togetherness.
So on your next business trip to Noosa, be sure you can make it up to your spouse or special someone once you get back home by buying her something to make her feel special. Make her feel that she still crosses your mind even if you're miles away. Good thing Noosa is home to some of the best jewellery shops on the Sunshine Coast. If you want to know some of these stores, check out the list below and bring out the romantic guy in you.

• Secrets Shhh (Hastings Street, Noosa Heads)
With the motivation and philosophy of giving every woman the chance of possessing fine jewellery, give your partner this same opportunity by surprising her with one item from Secrets. With the themes of fun, attitude, and choice, Secrets provide any kinds of jewellery suited for every occasion. So you can never go wrong with this shop.

• Poeta Herford on Hastings (Hastings Street, Noosa Heads)
Give only the finest to your partner with Poeta Henford on Hastings' items. Featuring the hypnotising works of the multi awarded jeweler Gordon Herford, and set in an ambiance surrounded by the amazing oil paintings and abstract photographic images of famous contemporary artist Belinda Herford, you'll know you're in one of the most exquisite jewellery shops there is.

• Pearls for Girls
How about some pearls to complement your girl's complexion? Pearls for Girls offers fine, large white to silver Australian pearls harvested from the popular pearl farms in Broome. In this unique shop you can also find black pearls from Tahiti, golden pearls from Indonesia, and sun-coloured pearls from the tropics. Imagine one of these on the wrist or neck of your special someone, and know that one of this would be great on her.

If you have the chance to choose your accommodation, book a Clearwater Noosa apartment unit.

Situated beside the Noosa River, our Noosaville holiday apartments is an excellent choice if you're interested in doing some peaceful fishing or in trying water sports like kayaking and wake boarding.

For booking information about our Noosa holiday accommodation, please visit http://clearwaternoosa.etourism.net.au/.
Image Source : Secrets