The 11th Celebration of Christmas in Cooroy
Posted in
Local Events
@
Oct 28th 2015 3:19pm
- By Administrator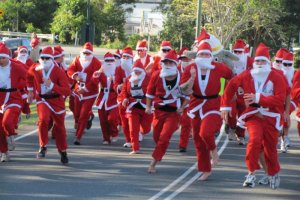 If you're thinking of making this year's Christmas extra special, then you and your family should take a holiday on the Sunshine Coast and join the Christmas in Cooroy.
Now on its 11th year, Christmas in Cooroy will happen on December 4, 2015, Friday at 6pm, and December 5, 2015, Saturday at 4pm in many parts of Cooroy. Just like its previous years, you can expect tons of excitement especially because for this year, there will be free rides, tug of war and sack race games, free face painting, amazing fireworks, live music, delicious food, and the much awaited Santa's Visit that is open for kids and adults alike.
Come 6pm on December 4, the event will start as well as the awards ceremony for the Cooroy Central Guardian Photographic Competition to be held at the Butter Factory Arts Centre. This will be followed by the Ricon Christmas tree lights being officially turned on at 7pm then the Shop Window Trail's launch outside Club Cooroy next.
The following day should never be missed because it's where the all the fun and action are. Starting 4pm up to 7:30pm on December 5, everyone should be ready with the full packed enjoyment at Apex Park.
To be sponsored by The Cooroy Rag, various free rides will be found on the venue like the Big Slide, T-Cup roundabout, and Bouncy Castles. There will be a Petting Zoo, too, to be sponsored by John Madill Toyota, where anyone can have fun with the amazing animals. To keep the place more alive, The Cooroy Fish 'n Chips Santa Sack Races, CJ Taxation Services' free face painting, Hope Central Choir, and tons of food, drinks, and sideshows will join this exciting event.
To happen at 4:30pm is the Noosa to Hinterland Plumbing group Great Santa Race, and at 5pm is the Bendigo Bank Street Parade. At 7:30pm of the same eventful day, catch nonstop live music from great artists that will be announced soon.
Christmas in Cooroy is a free community event so you can invite as much people as possible.