The Boathouse Floating Restaurant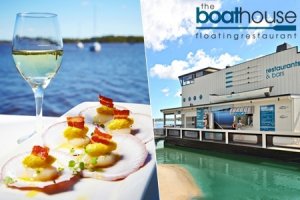 Take in breathtaking views of the Noosa River while savoring a unique dining experience.

The Boathouse Floating Restaurant is situated on Noosa River's edge and offers visitors a one-of-a-kind waterfront dining experience.

Witness the region's panoramic river and hinterland views while delighting in the freshest steaks, seafood as well as the restaurant's modern Australian cuisine. The Boathouse Floating Restaurant is also proud of its seafood platter.

Go up to the second level and experience The River Room where waterfront weddings and sunset views can be had. Its Sunset Bar is also ideal for evening drinks.

The Boathouse Floating Restaurant bagged the 2010, 2011 and 2012 Qld ABIA Awards for the best "Restaurant Reception Venue." It also received the "Best Restaurant" title in the Sunshine Coast Diners Choice Awards.

Despite these accolades, Trip Advisor Contributor `LabelsandTravel' find the restaurant "A bit boring..I feel this restaurant is a little over priced..wasn't keen on the food either..Service and location would make me think about coming back as those two are the only good factors of this `Pub.'"

However, another Trip Advisor Contributor `Annette M' finds The Boathouse Floating Restaurant a "..great location for a quick cocktail. This is a fun quirky place to go for a quick drink at sunset..The food is quite good a bit like a bistro or pub food."

But `Nic0le96,' a Trip Advisor Senior Contributor, was "disappointed" in the service she received at The Boathouse Floating Restaurant: "I walked in at the end of lunch service when the only 2 staff were to busy to seat me I knew I should have walked out.." She also said she received "..the smallest steak ever.." and she felt the price she paid for her order was "..a total rip off and I wasn't (even) asked how my meal was.."

Meanwhile, `Hayels23' "..couldn't fault the service, setting, food or ambience.." of the restaurant. She cites the venue as perfect for those who need "..an alternative to a cruising restaurant. Anchored to the banks, you feel a slight sway and have a 180 degree view of the water..We experienced the full 'box and dice' of upmarket dining with a 3 tower feed of a great range of seafood (including fresh local produce) and matched wine..Great value for the high quality food and service you receive."

Experience The Boathouse Floating Restaurant for yourself and place your opinion on the comments section below.

The restaurant is located at 194 Gympie Terrace Noosaville and is accessible less than fifteen minutes by foot or by car from our Noosaville Holiday Apartments.

For more information, go to http://www.boathouserestaurant.com.au/, email [email protected] or call 07 5440 5070.

Book your stay at our Noosaville Holiday Apartments by visiting http://clearwaternoosa.etourism.net.au.
Image Source : The Boathouse Floating Restaurant