The Price is Right if you Stay and Play with us for 7 Nights!
Posted in
Accommodation
@
Sep 8th 2013 10:08am
- By Administrator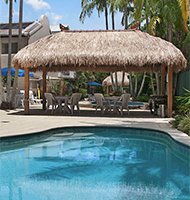 For merely $459 per person, you can stay and play for seven whole nights for five rounds all-inclusive per person at our Noosa Holiday Accommodation.

Golf lovers – be it the novice or the professional – can avail of our Stay and Play packages and choose from not just two or three packages, we actually have five Stay and Play offerings to choose from.

These range from your choice of four, three or more rounds of golf in various resort courses. Your options include Mt Coolum, Tewantin Noosa, Horton Park, Noosa Springs, Club Pelican, Hyatt Regency Coolum, Headland.

Feel free to combine a slew of courses for variety or simply for fun. You can also play alternatives, just advise us and we will gladly advice you of any adjustments in price. Shorter Term Options are also available.

Go to this link for more details http://www.clearwaternoosa.com.au/golf-packages#package1 and you'll notice that we have arranged and organized everything so you don't have to.

When you arrive at our Clearwater Noosa, all you simply have to do is rest, stay for a while and play to your heart's content.

We can similarly organize a rental vehicle if you are arriving with a large group. Motorized carts are similarly available for $32 per cart.

Reviews made by our guests as culled from http://www.hros.net reveal our average score as 9.4 out of 10.

See for yourself what they think of the service we have provided.

A February 2013 review from "Anonymous" describe our resort as: "..a great place to relax and enjoy the sunshine... Apartments are very nice and barbeques and pools are all of an excellent standard!"

User "Karl" who was with his friends when he stayed with Clearwater Noosa had an "..awesome stay. The apartment was well priced and would definitely recommend to others. Once again thanks for the comfortable stay. Regards Karl & Joane."

Michael also went on a group tour and has this to say of his experience: "..we found it very peaceful & relaxing."

Russell also weighed in and claims: "We found this accommodation was good value for money and provided a well appointed and comfortable self contained apartment centrally located to the retail outlets in Noosaville."

If you have availed of our Stay & Play packages, please share your experience in the comments section below.

If you want to experience Stay & Play yourself, book your stay now by going to http://clearwaternoosa.etourism.net.au.