Welcome to the Cooroy Fusion Festival!
Posted in
Local Events
@
Feb 28th 2016 3:27pm
- By Administrator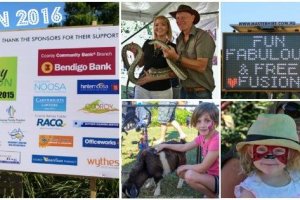 Queenslanders and holiday goers have plenty of reasons to explore Noosa. We have one more reason: Cooroy Fusion Festival! Catch this festival return on the 7th of May 2016 at the Lower Mill Precinct!

The festival's humble beginnings can be traced back to when the Sunshine Coast Regional Council announced the opening of the Library. From then on, it has continued to delight guests through an exciting showcase of talent, expertise, creativity, innovation, and products of Noosa. The festival further seeks to create greater economic opportunities for local businesses by aiming to attract a broader Sunshine Coast audience to the local area while nurturing and supporting vital community partnerships and a strong sense of community belonging.

The Cooroy Fusion Festival has significantly expanded with the generous support of event partners Noosa Council and the Cooroy Community Bank Branch of Bendigo Bank. The fusion organising committee headed by Chris Bell is happy to share that there will be exciting new additions to the one-day festival.

Several local sponsors like Cooroy Library, Butter Factory Arts Gallery, Noosa District Orchid Society, Camphor Laurel Timber Initiative, Cooroora Woodworkers are also lending their talent and expertise to bring out the best of Noosa.

The Cooroy Fusion Festival invites all locals and holiday goers can soak up the festive atmosphere. For more information about this event and sponsorship opportunities, you may visit www.cooroyfusionfestival.com.au.

Be part of the 10,000 visitors. Make Clearwater Noosa your clear choice for your long Noosa weekend. Indulge in a hassle-free vacation by checking in at any of our Sunshine Coast Holiday Apartments, complimented with first-rate guest amenities perfect for your fun-loving lifestyle.

Feel like royalty as you recharge with a dip in one of our three sparkling swimming pools, or fancy a barbecue party while appreciating our tropical garden. Stay connected with your friends online with our free WiFi access, and if you are bringing your car, you can secure your ride within onsite undercover parking. If you need help with your weekend itinerary, feel free to consult our tour desk staff to give you expert travel advice and assist you with your bookings.

Book your stay via http://clearwaternoosa.etourism.net.au/ today and have an amazing Noosa-filled weekend at Clearwater Noosa!
Image Source : Cooroy Fusion Festival