Why Take an Apartment with Two Bathrooms? Read This
Posted in
Accommodation
@
Nov 14th 2015 7:21am
- By Administrator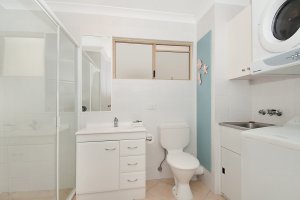 Going on a holiday with family or friends is awesome. You have more people to share your exciting new experience with, more people laugh with, play with, and explore with, amongst others.

But with the time restraints of the usual three day trip, preparing for a single day's tour can be stressful. Especially when you're on the beautiful Sunshine Coast, there's just too many attractions you need to see that every second you spend being idle means a lot.

To save heaps of time letting everyone prepare for the day, it is important that you get a Sunshine Coast holiday apartments that provide Two Bathroom units.

So book your stay at Clearwater Noosa. With our Two Bedroom and Three Bedroom Apartments that have Two Bathrooms in them, guests of up to seven will have no problem every morning. With us, you'll experience an all out convenience since no one needs to wait long hours before their turn in a One Bathroom unit. You can all wake up, eat your breakfast, and with the two bathrooms waiting for you, two people can take turns in taking bath at the same time. With this kind of set up, everyone in the room will be done preparing in a short time, and you'll have longer time for the tour around Sunshine Coast itself.

Aside from the two bathrooms in each unit, Noosa holiday accommodation is also fully self contained with all your needed amenities inside. There's a kitchen with complete cooking equipment, private balconies overlooking the resort's tropical garden, living area with cable television, Wifi access, and comfortable sofa, air conditioning, ceiling fans, and cosy, big beds to keep everyone sleeping tight at night.

Fall in love with our tropical gardens as you take pleasure in our other resort facilities. We have not just one, but three outdoor swimming pools you can enjoy all day long, two barbecue areas where you can grill and share your favourite smoked meat with your buddies, on site undercover parking space which will keep you worry free during your whole vacation, and Tour Desk which can assist you in booking your tickets to the best destinations on the coast.

Book your stay at Clearwater Noosa by visiting the link: http://clearwaternoosa.etourism.net.au/.